From a meticulous and personal selection carried out by Fabio and Renzo directly on the vine, using grapes that are subsequently dried, originating from limestone soils rich in rocky components of the Veronese hills in Tregnago, situated 400 meters above sea level, in the locality of Cà Dei Conti, a property that has always belonged to the Rancan family. This family, with care and passion, limits the production per plant.
INDIGENOUS TRADITIONAL GRAPES
Corvina, Corvinone, Rondinella, Marzemino, Teroldego
DISEASE-RESISTANT GRAPES
Varieties resistant to powdery mildew and downy mildew, hence requiring no phytosanitary treatments:
Regent, Cabernet Volos, Cabernet Eidos
ALCOHOL CONTENT 18.5%
Total Acidity 7.5g/L
Sugars 6g/L
Extract 55g/L
pH 3.8
Serving Temperature 18 – 20 °C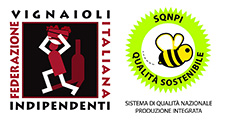 Contiene Solfiti.
Contains sulfites.
Contient des sulfites.
Enthält Sulfite.
* Certification obtained starting from the 2021 vintage
**Average Analytical Data
VINEYARD
The property of Cà Dei Conti is located at the foot of Mount Precastio, in the municipality of Tregnago, covering an area of 1 hectare. Situated on a hill with an altitude ranging from 400 to 450 meters above sea level, it enjoys full south-facing exposure. The soil is limestone-marl, of glacial origin, and is rich in skeletal material.
CULTIVATION
Planted in Guyot on benches, with dense planting system, it counts about 9000 plants/ hectare. Each vine produces only1kg of grape.
HARVEST
Harvest at the end of October with 5 kg plateaux. A manual selection of the grapes is made, making several passages in the vineyard. Withering until March in the loft in optimal temperature, humidity and ventilation conditions.
VINIFICATION
Crushing begins in March with destemmer-crusher and maceration on the skins for 1 month at a temperature of 8°C, fermentation at 20°-23°C. with soft and continuous movement of the skins the fermentation lasts about 2 months. Separation of the skins and pressing of the same.
The wine obtained is decanted and cleaned of coarse fermentation lees, placed in French and American barriques with their own lees to complete the alcoholic and malolactic fermentation for 4 years and aged in the bottle for about a year.
TASTING NOTES
A wine of great structure, rich and elegant. The red, almost black color with a warm and intense bouquet. On the nose stand out typical aromas of cherry, strawberry, dried fruit, licorice, cocoa and spicy notes.
COMBINATIONS
Grilled red meats, roast beef, cut beef or foal, roasts with savory sauces, game. Great hard and well seasoned cheeses, slightly spicy. Also excellent as a meditation wine and after a meal.