Late harvest grapes from limestone soils, rich in rocky components of the Veronese Hills in Tregnago, at an elevation of 400 meters above sea level, in the locality of Cà dei Conti, owned by the Rancan family for 300 years. They meticulously and passionately limit the grape production per plant to 1.5 kg.
GRAPES WITH BRIEF WITHERING
Corvina, Corvinone, Rondinella, Raboso Veronese
RESISTANT GRAPES
Regent, Cabernet Volos, Cabernet Eidos
ALCOHOL CONTENT 15.5%
Total Acidity 7g/L
Sugars 6g/L
Extract 45g/L
pH 3.8
Serving Temperature 18 – 20 °C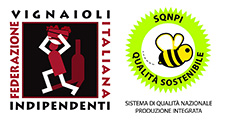 Contiene Solfiti.
Contains sulfites.
Contient des sulfites.
Enthält Sulfite.
* Certification obtained starting from the 2021 vintage
** Average Analytical Data
VINEYARD
The Cà Dei Conti property, is placed at the foot of Precastio montain, in the Tregnano city, on 5 hectares of land. The vineyard is located on a 400 – 450 metres above the sea hill  and it is completely south-facing.
Marl-limestone morainal soil, rich in structure. Thanks to these characteristics the wine has a optimal structure and alcohol richness.
CULTIVATION
Planted in Guyot on benches, with dense planting system, it counts about 9000 plants/ hectare. Each vine produces only1kg of grape.
HARVEST
The harvest is done at the end of October with 5kg plateaux. People select manually the grapes in orther to have the best ripening. Drying between 50 and 60 days in fruttaio with optimal temperature, humidity and ventilation.
VINIFICATION
The pressing starts in November/December with the destemmer-crusher machine and maceration keeping the peel of the grape for 7/10 days at 8°C temperature, fermentation for 15 – 20 days at 20° – 23° C with a soft and continuous movement of the peels.
Separation and pressing of the peels.
The wine obtained is decanted and cleaned from the fermentation lees, put in french barrique whith its own peels to complete the alcohol and malolactic fermentation for 3 years and then aged in bottle for 1 year.
TASTING NOTES
A great structur, rich and elegant wine. Rubi – violet red wine with a warm and intense bouquet. To the nose they detach perfume of cherry, strawberry, nuts, vanilla, cocoa and spicy notes.
COMBINATIONS
Grilled red meat, roat – beef, beef tagliata, roasts with tasty sauce, and venison.
Hard and aged cheese, a little spicy. Excellent as a wine of meditation at the end of a meal.